SKF China and Inovance Automotive reached a strategic cooperation
2022-03-21
Source:INOVANCE
Recently, SKF and Inovance Automotive signed a strategic cooperation agreement in Shanghai. The two parties will carry out all-round in-depth cooperation in the fields of supply chain service system, R&D and digitalization, intelligent status monitoring, new energy vehicles, etc. At the same time, the two parties will also conduct intensive cooperation and exchanges on topics related to decarbonization and net zero issues, such as green electricity and zero carbon, oil recycling and reuse, and bearing intelligent remanufacturing.
Tang Yurong, senior vice president of SKF Group and president of Asia, David LH Johansson, vice president of SKF China, and Li Juntian, CEO of Inovance Automotive attended the signing ceremony.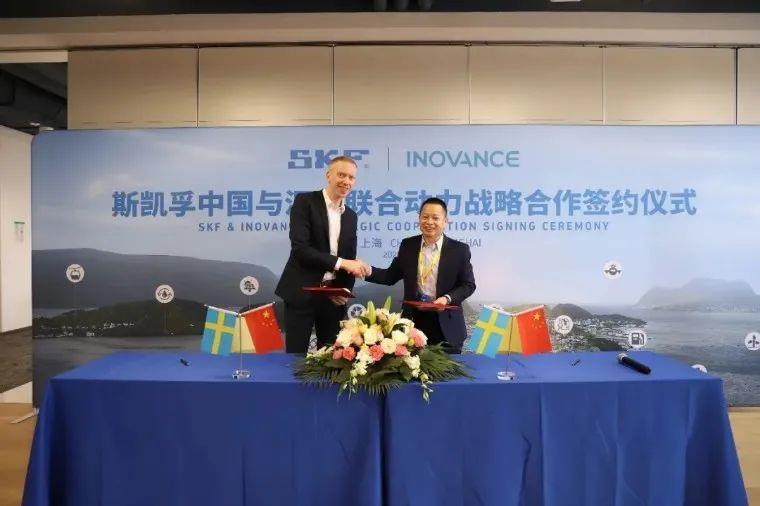 David LH Johansson, Vice President of SKF China (left)
Signed the contract with Li Juntian (right), CEO of Inovance Automotive
New energy vehicle is the important evolution direction of the global auto industry. Technology and innovation power the development of this direction. As part of the cooperation, the two parties are jointly exploring the further application of high-speed ceramic ball bearings in e-axle. Using the SKF high-speed ball bearing solution, Inovance e-axles have been widely used in mainstream OEM manufacturers of new energy passenger vehicles and new energy commercial vehicles.
SKF takes "intelligent" and " clean" as its global strategy and technology investment direction, which also has a natural fit with the new energy vehicle business that Inovance Automotive is promoting. Guided by the "carbon neutrality" goal, SKF plans to achieve net zero emissions from its own production and operations by 2030, as well as net zero emissions across the entire supply chain from raw materials to finished products by 2050. During this cooperation, SKF will make full use of its own experience and advantages in the field of intelligence and cleanness to promote the sustainable development of future mobility and new energy vehicle industry, improve the impact of mobility on the environment, and create greater environmental economic benefits together with Inovance Automotive.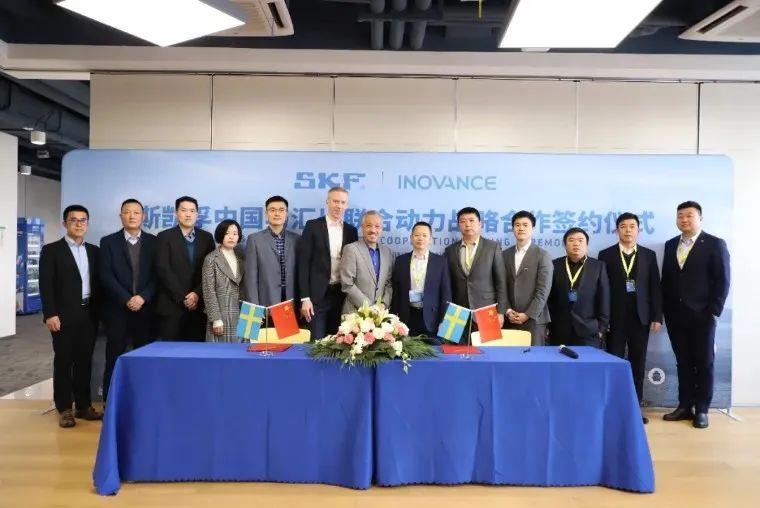 Group photo of SKF China and Inovance Automotive signing a strategic cooperation agreement
About SKF
SKF entered the Chinese market in 1912, serving more than 40 industries such as automobiles, railways, aviation, new energy, heavy industry, machine tools, logistics, and medical care. It is now evolving into a knowledge-, technology- and data-driven enterprise dedicated to a smarter, cleaner and more digital way to realize SKF's vision of a world that works reliably. In recent years, SKF has accelerated its transformation in the fields of business and service digitalization, industrial Internet of Things and artificial intelligence, and created a one-stop service system integrating online and offline - "SKF4U", leading the industry revolution.
About Inovance Automotive
Inovance Automotive is committed to becoming a world-class supplier of electric powertrain system solutions. Our main products include e-axles, motor controllers, motors, OBC, DCDC, etc. Since 2008 when we started operating the business in new energy industry, our power system and OBC products have been widely used in new energy passenger vehicles, new energy commercial buses, new energy commercial logistics vehicles, and other fields. In the future, we will continue to provide competitive electric powertrain solutions to mainstream new energy vehicle OEM manufacturers.